A delicious, gentle way to remove toxins and cleanse your body
Improves detoxification and digestion
Promotes healthy liver and kidney function
Contains milk thistle - the #1 herb for liver health
Contains only organic coriander, organic fennel, organic milk thistle, organic chicory, organic burdock and organic dandelion - NO added flavors
Caffeine free
Gluten free and vegan
Loose tea is scientifically proven to have superior aroma, flavor and health benefits than tea bags
FREE stainless steel tea ball with first order - A $5 value
100% Money-Back Guarantee
If you are not 100% satisfied with your purchase, return it within 90 days for a complete refund. Learn more
Liver Detox Tea is a unique blend of 6 herbs that support cleansing and detoxification.* As a loose tea, Liver Detox will offer more superior flavors and aromas than tea bags.
Liver Detox incorporates dandelion and chicory with burdock root based on their traditional use as "cleansing" herbs and powerful liver stimulants, along with fennel and coriander for improving digestion and the removal of toxins from the liver. As the most utilized herb by those with liver concerns, Liver Detox includes milk thistle to provide support to the liver by protecting liver cells from toxins and helping to maintain liver detoxification processes.*
Enjoy a daily cup of Liver Detox tea as part of your overall wellness program.
The Ingredients
Coriander contains essential oils that support liver detoxification.
Fennel - Besides its wonderful flavor reminiscent of licorice, fennel supports digestion which helps the body eliminate toxins.
Milk Thistle is the most popular herb used for liver support and protection.
Chicory is a powerful liver stimulant used to protect the liver.
Burdock and dandelion have both been traditionally used as "cleansing" herbs which help support liver, gallbladder and kidney elimination processes.
Usage
Brew 1 teaspoon per cup of boiling water. Using a tea filter or infuser, let tea steep for 5-7 minutes.
Warnings
This product contains a blend of herbs. Consult your medical professional prior to use if you are pregnant, nursing, taking medications or have a medical condition.
Milk thistle may reduce the effectiveness of oral contraceptives, therefore backup birth control methods should be used while taking a milk thistle supplement.
Ingredients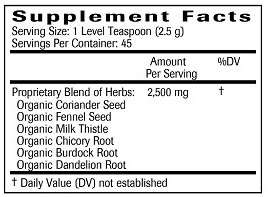 Buy Now