Calcium Liquid Supplement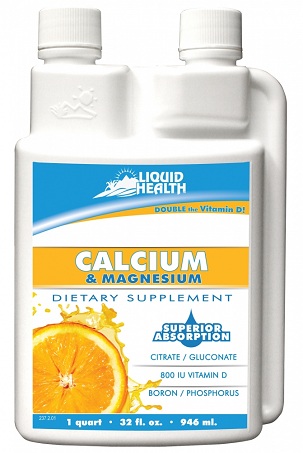 + Click to zoom
32 Fluid Ounces: 30-Day Supply
Item-N900
Availability: Ships in 1 business day.
Calcium Liquid Supplement Benefits:
Strengthen bones, relieve symptoms of PMS and maintain healthy blood pressure
More absorbable than other forms of Calcium
Benefits
Reviews
Usage/Warnings
Ingredients
Email a Friend
Benefits
A more potent form of calcium.
Strengthen bones, relieve symptons of PMS and maintain healthy blood pressure
More absorbable than other forms of Calcium
Long known as vital for strong bones, calcium is gaining recognition for its role in relieving symptoms of PMS, and maintaining healthy blood pressure. Calcium is a difficult supplement for many people. Tablets are often weak, poor forms (such as carbonate), or don't provide the necessary supporting minerals. Our product contains the vital nutrients that the body needs to properly assimilate calcium plus a blend of the best forms of calcium. We also added boron, recommended by many as building bone density, key to staving off bone loss.*
Some forms of calcium dissolve in water when the ph is lowered to make a mild acid. With our liquid calcium the lower ph (made possible by citric acid), not only makes the product more stable, but allows your stomach to immediately act on the calcium. This immediate action is made possible because the calcium does not neutralize the stomach acid.
I love this product, easy to take and it raised my D levels and makes my bones feel good.

- Sharon
Usage
Take 1/2 ounce twice daily (1/2 ounce = 1 tablespoon). For palatability, we suggest mixing the product in juice when taking.
Warnings
Please consult with a health care professional before starting any diet, exercise or supplementation program, before taking any medication, or if you have or suspect you might have a medical condition, are currently taking prescription drugs, or are pregnant or breastfeeding.
Ingredients
Nutritional Information per ounce:
Vitamin D (as Cholecalciferol) - 800 iu
Calcium (Gluconate USP, Citrate, Phosphate, Chelate, Malate) - 1000 mg
Phosphorus (TriCalcium Phosphate) - 175 mg
Magnesium (Gluconate, Citrate) - 600 mg
Manganese (Chelate) - 100 mg
Boron (Chelate) - 20 mg
L-lysine - 100 mg
Silica (from Silicon Chelate and Horsetail Extract [
equisetum arvense
])- 102 mg
Other Ingredients:
Purified Water, Citric Acid, Xanthan Gum, Natural Flavoring, Stevia (Stevia rebaudiana), Potassium Sorbate (to preserve freshness), Potassium Benzoate (to preserve freshness).
100% Vegetarian
Contains NO Sugar, Starch, Salt, Wheat, Gluten, Yeast, Milk, or Soy Derivatives.
Email a Friend
Know someone who would love to learn about this product? Don't keep it a secret – share it now!

Note: We will not store or share any email address provided here. The sole one-time use will be to send the Refer a Friend emails. * = required
Buy Now