Guarantee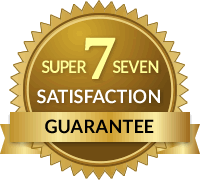 Our exclusive Super 7 Satisfaction Guarantee makes it easy, convenient and safe for you to shop at Natural Wellness® 24 hours a day, 7 days a week. We guarantee the finest quality, service and security available online today.
Our goal: to WOW you. To treat you in such a way that all you can say is "WOW."
Applicable only in the 48 contiguous states via the US Postal Service.
Based upon accuracy of orders shipped between January 2020 and December 2020.