The #1 Prescription-Strength Liver Supplement From Japan
Over 1.5 million prescriptions written, by thousands of doctors in Japan to protect and regenerate the liver.
The only SST in the U.S. market that utilizes the full prescription strength dosage of Sho-saiko-to (SST)
Clinically proven to protect and support healthy liver cells
Relieves liver congestion and supports liver function
Eases liver inflammation and helps prevent cell damage
Reduced fat accumulation and eases stress on the liver
Increases resistance to illness
100% Money-Back Guarantee
If you are not 100% satisfied with your purchase, return it within 90 days for a complete refund. Learn more
Benefits
Sho-Saiko-To (SST) is the most recognized botanical formula for liver support in Japan and has been prescribed to more than 1.5 million liver patients in Japan.
It is also an internationally researched all-natural herbal solution for liver issues. In addition to thousands of clinical studies in Japan, numerous clinical studies have been conducted in the U.S. including Memorial Sloan Kettering in New York City.
SST has been clinically proven to:
Protect and support healthy liver cells
Relieve liver congestion and supports liver function
Ease liver inflammation and helps prevent cell damage
Reduce fat accumulation and eases stress on the liver
Increase resistance to illness
Our SST uses the same Japanese professional strength and quality herbs to ensure an authentic approach to meet the clinical studies and is also the ONLY SST in the U.S. market to do this. Clinically proven to protect and regenerate healthy liver cells. SST should be considered by anyone with liver concerns.
Usage
It is recommended to take three SST capsules two times daily or as recommended by a health care professional. Each bottle includes 180 capsules. At the recommended dosage one bottle would last 30 days.
Warnings
SST is not recommended if:
You are pregnant or breastfeeding.
You are currently undergoing interferon treatment or have a pre-existing lung condition: SST can increase the risk of interstitial pneumonitis, a potentially fatal condition.
You are taking drug metabolized by Cytochrome P450 enzymes: SST can alter the blood concentrations of these drugs.
You are taking tolbutamide: SST reduces the bioavailability of this drug.
Ingredients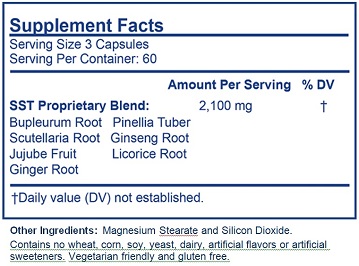 The total weight of standardized extract of 7 ingredients: Bupleurum Root, Pinellia Tuber, Scutellaria Root, Ginseng, Jujube, Licorice, and Ginger is 4.2 grams per day (6 capsules), which is equivalent to 24 grams of raw herbs.
Buy Now