Elderberry Vitamin C & Zinc Lozenges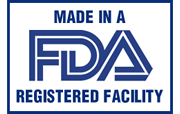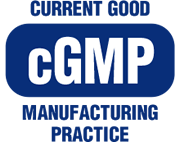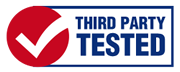 A Potent Combination of Minerals, Vitamins, and Herbs to Support the Body's Natural Defenses and Overall Well-Being
Elderberry contains several compounds that help support healthy immune function*
Zinc is critical for the optimal development of immune cells*
Contains 100% of your daily recommendation for Vitamin C and 136% of your daily recommendation for Zinc
Gluten Free & Non-GMO
Manufactured to meet FDA cGMP standards
Support Your Body's Immune Response. Learn How.
Ships in 1 business day

Buy Now, Pay Later
Elderberry Vitamin C & Zinc with Herbal Immune Blend include a combination of herbal cofactors along with an essential mineral that plays a major role in antioxidant defenses and healthy immune function.* These lozenges were developed to help support the body's natural immune defenses and overall well-being.*
Features
Elderberry is a time-honored herb used for centuries to support the immune system. As one of the most commonly used medicinal plants in the world, the extract of the elderberry fruit is a safe and effective way to support your body's immune defenses.*
Zinc is a nutrient found throughout your body and critical for carrying out vitamin chemical reactions in the body, not the least of which is supporting a health immune system.*
Vitamin C needs no introduction as its immune support benefits are well known. Vitamin C is an essential vitamin that cannot be produced within your body, thus it needs to be obtained through diet and supplements.*
Herbal Immune Blend
Echinacea has been shown to stimulate cellular immunity and may have antibacterial properties. Historically, it has been used to help with respiratory tract infections.*
Astragalus is a powerful herb with a remarkable ability to balance and boost immune function.*
Amla, also known as Indian Gooseberry, provides antioxidant support has been used to support a healthy inflammatory response.*
Soothing Herbal Blend
Licorice is known for its ability to strengthen the digestive system (which is beneficial to overall health) as well as supporting bronchial health.*
Aloe vera soothes the mucous membranes.*
Slippery elm is often found in natural throat lozenges, and is used to soothe irritated tissue.*
Usage
Each bottle of Elderberry Vitamin C & Zinc contains 60 lozenges. As a dietary supplement, allow one lozenge to dissolve in the mouth as needed or as directed by a medical professional.
Warnings
Please consult with a medical professional prior to use especially if you have or suspect you might have a medical condition, are currently taking prescription drugs, or are pregnant or breastfeeding.
Ingredients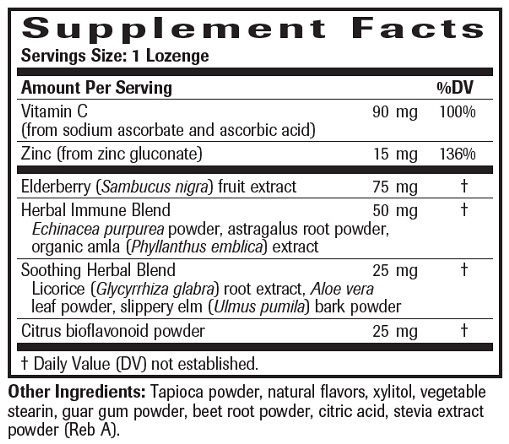 Buy Now