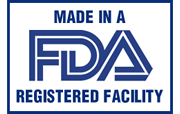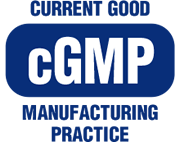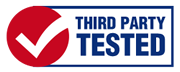 Liver Support & Detox Benefits:
Comprehensive liver support formula, containing B & C vitamins plus 13 liver supportive supplements and nutrients to support your liver's overall health and function.*
Supports your body's natural detoxification processes.*
Improves bile flow and supports digestion functions.*
Compare Liver Support & Detox to others
Ships in 1 business day.

Buy Now, Pay Later
Benefits
Liver Support & Detox is a combination of 15 vitamins, supplements and nutrients hand-picked to improve your overall liver health and function. It is a comprehensive formula that provides a good level of total protection to address all your liver needs for those on a budget.
Milk Thistle - Milk thistle is the #1 recommended herb for liver health, documented in thousands of studies to improve your liver's health, generate new liver cells and to increase liver detoxification processes.
Vitamin B6 - is essential for amino acid and glucose absorption in your liver. When not absorbed correctly in proper amounts, your liver works harder, blood sugar and energy levels are disrupted and fat accumulates in our liver which could lead to severe damage.
Folic Acid, B12 and Choline – all nutrients that support healthy liver detoxification, the process that makes it easier for your body to rid itself of toxins. Choline also assists the liver in soaking up healthy fats, which reduces fat in your liver.
Vitamin C – Studies have proven that a deficiency in vitamin C can lead to all kinds of liver issues.
Alpha Lipoic Acid and N-Acetyl L-Cysteine (NAC) - Two very powerful antioxidants that have been proven to improve your liver detox processes. They are the only known supplements that increase glutathione levels in your body.
Glutathione is your body's principal antioxidant that breaks down toxins so they can be removed from your body. Glutathione is produced in your liver. So those who have a liver that is not performing well will most likely have low glutathione levels. In addition, as we age our glutathione levels naturally decrease in our body. So supplementing with these two supplements is key to your health.
Selenium as SelenoExcell® - Selenium plays a critical role in your liver's normal function, glutathione production by your liver, and in the breakdown of certain harmful toxins in your liver. The SelenoExcell® version of Selenium is 100% natural and organic and, due to its high absorption rate, it is utilized very quickly by your body and starts working faster than other selenium supplements.
Artichoke – Artichoke helps in the production and flow of bile throughout your body. Bile is produced in your liver. If you have a liver that is not functioning well, it is most likely not producing enough bile on its own to help your body break down fats and remove toxins.
Turmeric – Extremely well known for supporting normal, healthy inflammatory response in the body, turmeric also supports the health of your liver and assists in detoxification.
Burdock Root, Dandelion and Yellow Dock – Have all been used as "cleansing" herbs to help support liver, gallbladder and kidney toxin elimination. They have also been proven to aid in inflammation, which is an underlying issue in every liver health concern.
Background
The liver is a very complex organ with a variety of functions. It plays a major role in the detoxification of bacteria formed inside the body as well as environmental bacteria.
Detoxification mostly takes place in the liver, but it is a process that involves a number of different organs. The liver goes through two phases to get rid of toxins in the body. In phase 1, the toxins are changed into a transitional mix, which are then made safe by phase 2 enzymes making it easier for the body to get rid of the toxins. Toxins are either released through the bile or by the kidneys.
Usage
As a dietary supplement, adults take 2 vegetarian capsules daily, or as directed by a medical professional.
Warnings
Please consult with a health care professional before starting any diet, exercise or supplementation program, before taking any medication, or if you have or suspect you might have a medical condition, are currently taking prescription drugs, or are pregnant or breastfeeding.
Not recommend for those with bile duct obstructions or gallstones due to the artichoke contained in the product.
Milk thistle (silymarin) may reduce the effectiveness of oral contraceptives, therefore backup birth control methods should be used while taking any products containing milk thistle.
Ingredients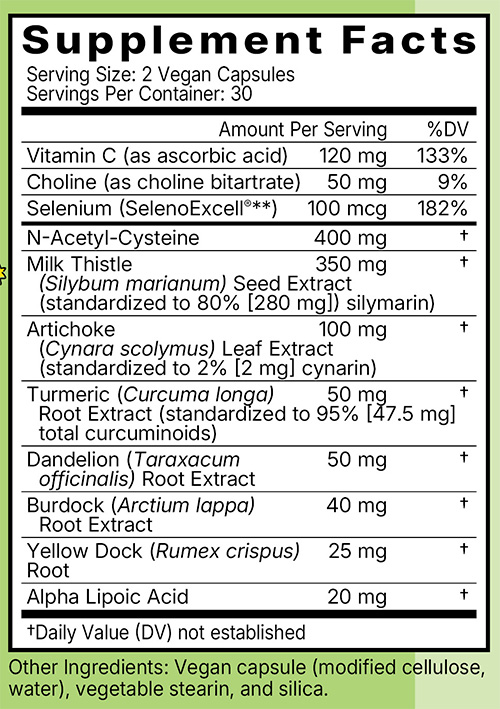 Buy Now