Hair, Skin & Nails
Supports Healthy Skin, Lustrous Hair & Strong Nails - 90 Tablets 30-Day Supply
Nourishes From the Inside Out
Helps you grow a fuller, shinier head of hair
Supports stronger, healthier and more durable nails
Promotes softer and smoother skin
Helps support the production of the proteins collagen, elastin and keratin, all important structural components of healthy hair, skin and nails
Features
Take our Hair Skin and Nails Challenge.
First read all that our product does and the science behind it and then give us one month. If your hair skin and nails don't look and feel more beautiful we'll give you your money back.
Contains vitamins, minerals, amino acids and herbs, all of which contribute to healthy hair, skin and nails.
Helps support the production of specialized proteins such as collagen, elastin and keratin, all important structural components of healthy hair, skin and nails.

Collagen "plumps out" the skin, removing wrinkles and preventing them from forming. In addition, collagen is essential for strong, healthy bones and joints
Elastin gives your skin its ability to stretch and "bounce back" preventing fine lines and wrinkles.
Keratin is the protein that's packed into your hair shaft. Keratin gives your hair thickness, body, strength, and elasticity. Keratin also givels strength to your nails..
With age, collagen, keratin and elastin decline.

Rich in sulfur-containing ingredients such as MSM, L-cysteine, and methionine, all of which help contribute to the strength and stability of the underlying structure of hair, skin, nails and other body tissue. Sulfur is a principle building block of hair and nails. It also helps to offset the effects of environmental toxins.
Contains OptiMSM®, the highest quality USA manufactured MSM on the market and the only USA manufactured MSM with U.S.-based human clinical studies supporting its efficacy and safety.
Vitamin C along with copper and zinc are essential for the synthesis and repair of collagen, important for healthy, strong, vibrant skin.
Niacinamide and zinc promote immune function and healthy inflammatory balance in the skin. Zinc also protects cells from oxidative stress, while niacinamide helps to prevent skin aging.
Our Hair, Skin & Nails contains patented L-OptiZinc®, the most well researched form of zinc available. Research has demonstrated L-OptiZinc® to be better absorbed and retained longer compared to other forms of Zinc tested.
Provides a significant amount of biotin, one of the B-complex vitamins, essential for the metabolism of fatty acids, nutrients needed for maintaining healthy hair and soft, moist skin. Clinical studies indicate that biotin may help reinforce the keratin structure of the nails, promoting strength and thickness.
Contains powerful antioxidant vitamins C and E, and the mineral selenium, all of which help protect the skin against harmful UV light damage and other sources of oxidative or free radical damage.
Horsetail extract provides silicon, an important structural component of skin, hair and nails. Silicon helps strengthen the connective tissue and collagen in the body, which supports hair strength and thickness.
PABA supports the appearance of healthy hair, through its effects on melanin metabolism. Melanin is responsible for the color of hair.
Calcium keeps nails strong and keeps them from getting too brittle.
Magnesium supports healthy nail growth. Lack of magnesium is one of the most common mineral deficiencies and is associated with soft, brittle nails.
Vitamin D plays a role in hair follicle growth and is a critical vitamin for hair regeneration.
Boron enhances the body's ability to use calcium, magnesium, as well as vitamin D.
Vitamin A assists with skin maintenance, and overall health. Vitamin A helps the skin rebuild tissues, it is also an essential vitamin when it comes to healing scrapes, wounds and other damages to the skin.
Manganese is required for the activation of prolidase, an enzyme that functions to provide the amino acid, proline, for collagen formation in human skin cells.
Water-soluble B vitamins nourish cells, helping to overcome brittle nails, improving skin elasticity and encouraging healthy hair growth.
Folic Acid is an important B vitamin that your body uses to make new cells. Folic acid helps support faster growing hair, stronger nails and smoother, healthier skin.
Pantothenic acid (vitamin B5) is a water-soluble vitamin and is important for the maintenance and repair of all cells and tissue. It is considered beneficial in the maintenance of healthy skin, muscles and nerves with reported benefits for acne appearing very promising.
Inositol and choline promote the growth of healthier and stronger hair and also stabilize cell membranes to safeguard hair follicles from damage. Some believe that inositol in particular might play a role in preventing hair loss and baldness.
Citrus bioflavanoids maintain healthy bones, nails, skin, hair and strong blood vessels. They also act as an antioxidant and protect the body from free radical damage. Bioflavonoids are found in citrus fruits and help maintain capillary strength and intensify the effect of Vitamin C in the body. They cannot be produced by the body and must be taken through food or supplements.
Nettle leaf is a nutritive herb that is rich in vitamins, minerals, and chlorophyll. It promotes healthy iron levels, healthy bone density and strong hair, skin and nails.
Benefits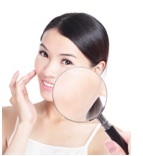 The real key to healthy skin, lustrous hair, and strong nails is building them from the inside out using key nutrients. Our Hair, Skin & Nails formula is designed to help support healthy hair, skin and nails by providing a wide range of essential nutrients including vitamins, minerals, and amino acids, as well as vital anti-oxidants. The body incorporates these nutrients into a series of complex biochemical and physiological processes necessary for building healthy hair, skin and nails. Despite these parts of the body being visible, their strength and quality is built from the inside out.
Ideal for both women and men, Natural Wellness® Hair, Skin & Nails works to nourish and protect hair, skin and nails from the inside for enhanced growth and strength and healthy appearance.
Background
Your hair, skin and nails, along with exocrine glands, make up your body's integumentary system. Skin is only a few millimeters thick, yet it is the body's largest organ. Skin is vital to the body as it forms the body's outer covering and protects the body from chemicals, disease, UV light and physical damage. Hair and nails reinforce the skin's ability to protect the body.
A healthy, well-nourished body is essential for healthy looking hair, skin and nails. Deficiencies, disease and general health can all impact the look and feel of our hair, skin and nails.
Our Challenge to You
As we said above, give us one month and try our Hair, Skin and Nails. If your hair skin and nails don't look and feel more beautiful we'll give you your money back. It's that simple.