Is your prostate making you miserable?
As men age, the prostate often enlarges. This puts pressure on the bladder and can cause a variety of urinary problems, from decreased flow to increased frequency of urination. ProstaCare® supports normal, healthy prostate function to relieve these symptoms.
Cut down on frequent bathroom trips and support natural urine flow without saw palmetto.
Support a healthy prostate and soothe inflamed tissues for ease of urination.
Strengthen reproductive tissues to help reduce inflammation, clear obstructed prostate ducts, and improve urination.
Ships in 1 business day

Buy Now, Pay Later
Benefits
The prostate is a small walnut-shaped gland that rests below the bladder and in front of the rectum. It is a critical component of the reproductive system. As men age, their prostate glands grow larger. By the age of 40, it can be as large as a small plum. By 60, it could be the size of a lemon. 80% of men will develop an enlarged prostate in their lifetimes. This enlargement puts pressure on the urethra, causing urinary problems. You may urinate frequently, suddenly, or have trouble urinating. Although age and genetics are generally to blame for an enlarged prostate, you can reduce some of these uncomfortable symptoms with ProstaCare®.
Tribulus supports normal urinary tract function and acts as a hormone balancer. It eases urination and promotes healthy blood pressure and blood flow.
Bonduc has been found to soothe inflamed tissues and stimulate urination.
Betelnut palm promotes energy and digestion and is used to decrease incidences of urinary infection. It is often prescribed in Unani medicine for the treatment of urinary disorders.
Shatavari root encourages a healthy digestive tract. It protects the prostate by neutralizing gastric acid secretions and increasing the lifespan of digestive cells.
Three-leaf caper contains lupeol, which promotes normal prostate function, heart health, and joint mobility.
For most men, an enlarged prostate is part of getting older. That doesn't mean you have to suffer from the annoying side effects that come with it. You can feel comfortable with ProstaCare®.
Usage
Take 2 capsules twice daily, preferably with meals. One bottle will last 30 days.
Allow several weeks for full benefit. The use of natural products provides progressive but long-lasting results.
Warnings
Please consult with a health care professional before starting any diet, exercise or supplementation program, before taking any medication, or if you have or suspect you might have a medical condition, are currently taking prescription drugs, or are pregnant or breastfeeding.
Ingredients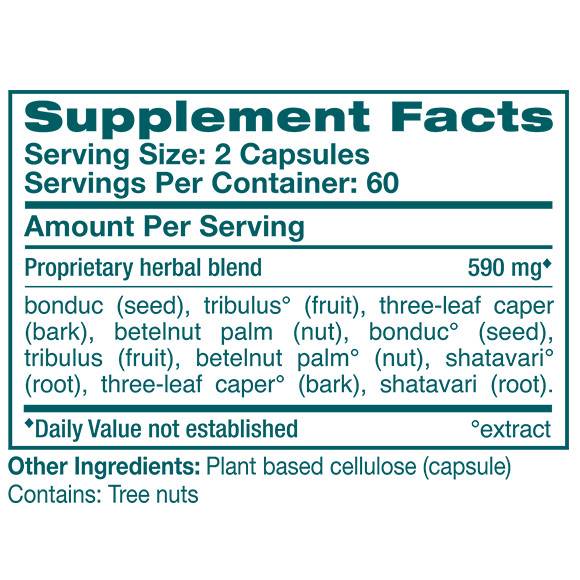 Buy Now