Nothing feels better than a bright, sunny day…and nothing can bring you down faster than dry, lifeless hair. During these long summer days, everyone wants to just relax and have fun in the sun. Unfortunately, our hair is usually the first casualty of its merciless rays. After all, they don't make sunblock for fabulous bangs!
Thankfully, there's an easy remedy for restoring life to damaged hair, and you needn't look farther than your local grocery store. If the summer sun is drying out your hair, have no fear. It's lemons to the rescue!
How Does Sun Affect Your Hair?
You already know that long-term exposure to the sun can damage your skin. You may not know that ultraviolet (UV) rays come in two separate flavors: ultraviolet A (UVA) and ultraviolet B (UVB).
UVA is long wave ultraviolet and penetrates deep into your skin.
UVB is short wave ultraviolet and is responsible for your sunburn. In time, UVB can also lead to the development of skin cancer.
Both of these UV rays lead to premature wrinkles, or "photoaging."
And both UVA and UVB will damage your hair.
UVB radiation is responsible for the loss of hair protein, or keratin.
UVA changes its color.
When the amino acids in your hair absorb radiation, they degrade and produce free radicals – which over time can lead to oxidative stress and even serious illness.
5 Signs of Sun-Damaged Hair
Prolonged exposure to UVA and UVB will damage the outside covering of your hair, or cuticle.
You'll notice:
Discoloration in your hair
Possibly thinning
Frizziness
Broken or split ends
Your hair will look and feel dry, will dry more quickly after it's wet, and will no longer be able to hold a curl.
Fine and light-colored hair is the most vulnerable to sun damage. According to dermatologist Wilma Berfeld, MD, the rays of the sun act like bleach, reacting with the melanin in hair to remove color, and damaging the hair's cuticle and keratin. When hair's keratin is damaged, it allows both UV radiation and heat to penetrate the strands more easily.
Sun-damaged hair can be further irritated by hot irons, chlorinated water, and the chemical products we use every day.
3 Ways Lemons Can Help Your Hair
Before you go pouring a pitcher of lemonade on your scalp, bear this in mind: lemons can act as a natural lightening agent. That's great when you're looking for a healthy alternative to bleach, but what about restoring brittle strands? To achieve that particular goal, it's best if you use lemons in conjunction with other methods.
First, trim your hair. Hair grows 10 to 15 percent faster in summer, and the longer you let dry hair grow the more damaged it will become. Cut back on those split ends.
Next, throw out any hair products that contain sulfates and parabens. These ingredients strip your hair of the natural oils that protect it from UV.
Finally, remember these three words: Hydrate, hydrate, hydrate. Your dry hair is thirsty! Look for moisturizing shampoos and conditioners with safe, naturally hydrating ingredients like coconut, jojoba and argan.
What happens inside our bodies also has a huge impact on what happens on the outside. A proper diet must not be overlooked when trying to improve the health of your hair. Look for foods that are rich in biotin, omega-3 fatty acids, protein, vitamin A and zinc, or supplements that focus on strengthening hair and nails.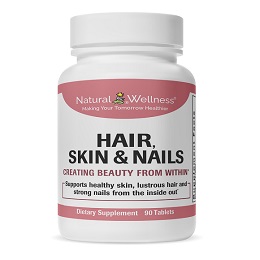 Natural Wellness's Hair, Skin & Nails contains powerful antioxidant vitamins C and E, and the mineral selenium, all of which help protect your skin against harmful UV light damage and other sources of oxidative or free radical damage.
Once you've followed these steps, you're ready for a soothing lemon rinse.
Lemons are a great source of nutrients, from citric acid to calcium, magnesium to vitamin C.
The vitamin C will boost the production of collagen and increase the growth rate of your hair.
The acid will tighten hair follicles and help reduce hair fall, as well as unclog the follicles responsible for dandruff.
Its anti-fungal properties will promote a healthy scalp and stimulate the re-growth of dormant follicles.
Beware, however, not to overdo it. Lemon rinses should be undertaken sparingly to prevent over-acidification.
It's Easy to Make Your Own Lemon Rinse
4 Things You Will Need:
about two or three lemons
a juicer
a strainer
and 3/4 cup of water
Chop the lemons and then juice them until you have about 1/4 cup of lemon juice. Strain the juice into a measuring cup and then fill it with warm water until you have about 1 cup.
You'll apply the rinse after you've washed your hair in the shower.
Slowly pour it over your scalp and then rub it into the roots of your hair.
Let it sit for up to five minutes, then wash it out with water.
If you'd like to lighten your hair, you can leave it in for up to an hour. Another option is to mix the lemon rinse with water in a spray bottle and then spray it on your hair before going out. The lemon will interact with the sun to add natural highlights to your hair.
To protect your hair year round, consider wearing a hat when going outside for prolonged periods, or cover yourself with an umbrella. After you swim in a chlorinated or salt pool, always rinse immediately after with clear water.